Bubble Blog: Alan Millar
The Program of Excellence management group representative shares his thoughts on the first few days of Canada's National Junior Team Sport Chek Selection Camp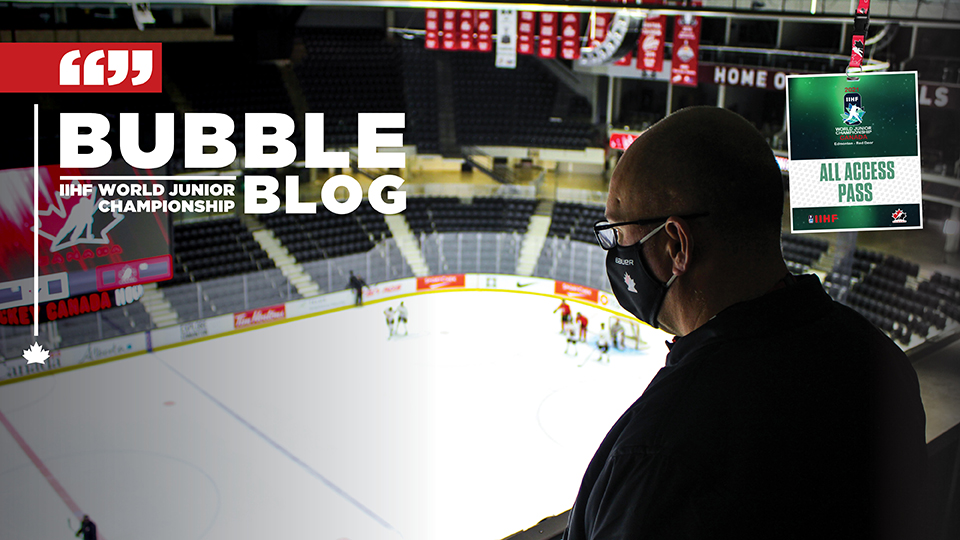 When you've been in the game for 30+ years and every day you get up and head to the rink, you certainly realize what you miss about the game when your team hasn't had a practice or a game in eight months. Skate blades hitting the ice, pucks off the glass, tunes in the dressing room, players working on their sticks and trainers doing what they do … which is EVERYTHING to get the boys ready.
After who knows how many Zoom calls, who knows how many hours spent video scouting and a "virtual" summer camp, we're here, back at the rink, on the ice and in the bubble in Red Deer, and around all those things about the game we missed so much the past eight months. We are excited!
I write this as I sit in the press box at the Westerner Park Centrium in between Red and White practices on Day 3 of Canada's National Junior Team Sport Chek Selection Camp.
Our coaches are executing our plan at the start of camp to ease the players into the high pace of playing at an international level, while also doing a lot of teaching. They are pleased with the first few days and our coaches bring high standards and expectations to our team.
Many of the players have not played a game since March, with the exception of those from the QMJHL, but our staff has been impressed with the commitment and work ethic from the players, and the pace of our early practices. This seems to be a very motivated group!
On Friday we'll have one more practice for each team as we prepare for three Red-White intrasquad games; they begin Saturday night, followed by games on Sunday and Tuesday.

After Tuesday morning's game, we will make our first player moves. There will be very tough decisions to make considering the high level of players and people we have here!
Forty-five days to go in the bubble and we're just getting started.
Don't tell my best friend, my lovely wife Kelly, but I wouldn't want to be anywhere else.
I'll check in with an update down the road.
GO CANADA GO!
Millsy