Bubble Blog: Players in quarantine
From their hotel rooms, the players share how they have approached a very interesting 14 days at Canada's National Junior Team Sport Chek Selection Camp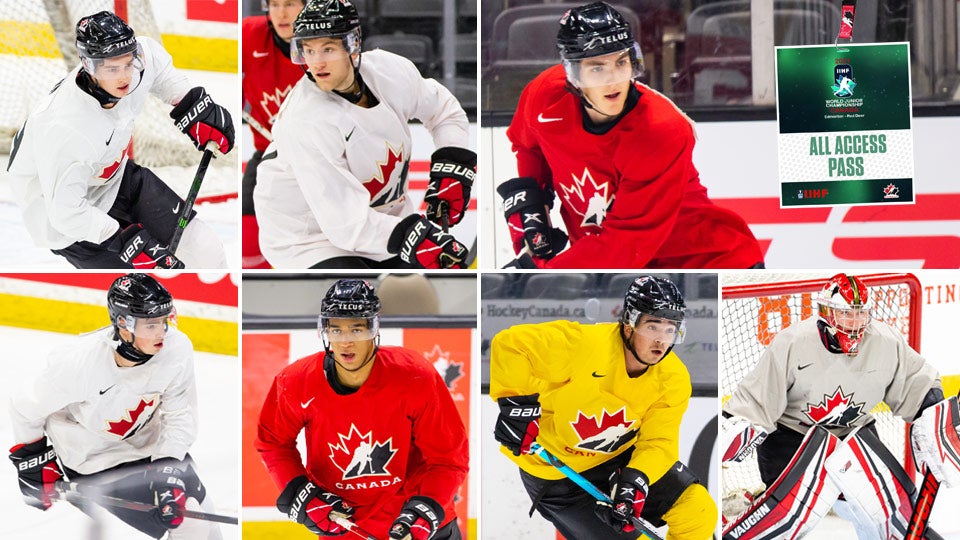 As the 14-day quarantine at Canada's National Junior Team Sport Chek Selection Camp enters its final few days, the players have had plenty of time to reflect – on their situation, on their mindset and on what they're grateful for.
With the final stretch of the road to the 2021 IIHF World Junior Championship in front of them, they shared what has been on their minds during their time in their hotel rooms, and what their approach to quarantine has been.
Jack Quinn
"Humility isn't denying your strengths, it's being honest about your weaknesses."
I think humility is important for us right now, because we need to realize the situation we are in. And I think we can all admit our weakness as a team is that we can't be on the ice for two weeks, while other countries can. Moving forward, we will need to work that much harder once we are out of quarantine and find another gear to make up for the time we lost. If we didn't be honest about this weakness, maybe we don't work that extra bit harder. That extra work we decide to put in might be the difference maker in winning a gold medal.
Dawson Mercer
Peyton Krebs
Spending every day in our hotel room is a grind. Not being able to play the game we love and do everyday things that make us who we are as people sucks. But we are in a situation we can't control, and we have to make the most of it. Being resilient is the capacity to recover quickly from difficulties and setbacks. Every day we wake up in quarantine, we are being resilient. For some it might be easy and others it might be hard, but at the end of the day we can all choose how we are going to attack the day and make the most of it. How does being resilient and making the most of our day in the hotel help our future? Today and every day we are doing the things that any other people in our situation wouldn't, so when the World Juniors start we can do what others can't. No matter the setback, we will be prepared!
Taylor Gauthier
Hendrix Lapierre
As you might assume, it's not fun to be away from the rink for weeks. As hockey players, we want to play the game, be with our teammates and share special experiences that we'll remember forever. A National Junior Team camp is one of those experiences. Unfortunately, we have been faced with a big challenge. We have to quarantine for 14 days. And do you know what? We were ready for it, like we would've been for any challenge. Life is not always easy, and sometimes it'll take you by surprise. But the big difference between champions and everyone else is the champions will react and adapt quickly to a tough situation, without letting it affect them personally, and as a team. We will be ready for any other obstacles that'll come our way, I can promise you that. We also know it will set us up moving forward, because nothing will be able to affect us, and we'll be unbreakable. We are ready, and hope you are too. We are winners. We are Team Canada.
Quinton Byfield
Alex Newhook
Resilience. A trait we believe is crucial to Canada's success at the World Juniors. It's something that you can't find on paper, but rather comes from deep within. The ability to accept, adjust and attack … it challenges you to better yourself. It's something that is necessary in the process of winning and is never absent on the path to success. It's what the people in this country have shown day in and day out during the COVID-19 pandemic. No matter how tough the circumstances, we fight back and look ahead to tomorrow. It's just who we are as Canadians. We're inspired by our country and believe that our resiliency of overcoming challenges – like our 14-day quarantine – will help us in our pursuit of gold.