Bubble Blog: Renata Fast
The defenceman talks about settling into Halifax for the BFL National Women's Team Training Camp, presented by Sobeys, reconnecting with teammates and skating at the women's worlds venue for the first time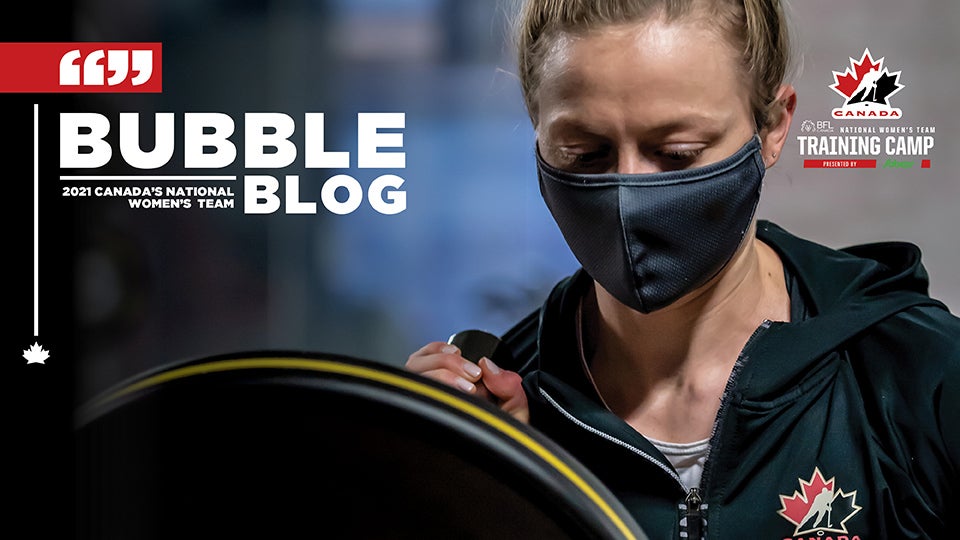 Wednesday, March 3
Hi Team Canada fans, it's Renata Fast from inside the National Women's Team bubble!
After 30 days training and practicing apart in our hub regions, we are back together. This time, we're in Halifax, N.S. – home of the 2021 IIHF Women's World Championship! With this being our second time in the bubble, I think the group had a better idea of what to expect and packed a little lighter. Nonetheless, snacks were still a priority!
We arrived early Monday afternoon and shuttled from the airport to the hotel. As we were getting out of the shuttle, we were terrified by a loud explosion. Our driver saw us in distress and quickly assured us that at noon everyday a cannon is set off at Citadel Hill (phew, glad we're safe). Day 1 was pretty quiet in our own hotel rooms, minus our COVID-19 test (ouch!). The downtime gave me an opportunity to get caught up on some work and relax a bit by reading and playing Mario Kart on Nintendo Switch! Before dinner was delivered, we jumped on a Zoom call with our strength and conditioning coach and ran through a short workout to get our bodies moving and flush out any tightness from the flight. We ended the day off with a virtual camp meeting, which was a great way to see the group and set the tone for the week ahead!
Waking up Tuesday morning, I was excited knowing we had the opportunity to get back on the ice together as a group. We shuttled over to the Scotiabank Centre and found our dressing room and the set-up for the week. As we walked through the tunnel and took our first strides around the ice, I could feel something was different – there was a buzz in the air, smiles were wide, lights were bright and there was a special feeling amongst the group. The Scotiabank Centre is home to the 2021 women's worlds, and we had been waiting two years to step on this ice and represent our country on home soil. This was our first taste of something special. I think it's safe to say we loved the rink! Practice was high tempo, high energy and a great start to the week. Just like the day before, at noon we were once again taken back by the cannon, which was heard even in the rink!
Bubble life is different; we spend a lot of time alone in our rooms, so the times we get to see each other are exciting and fun to catch up on what everyone's been doing to pass the time! I love being in this environment, surrounded by the best players in the world and an incredible staff. As a group, we are so grateful for these opportunities to learn, grow, battle and prepare together. There is a lot of excitement among the group for the days ahead. I know this week is going to fly by, but I will love every minute of it.
Stay healthy and safe everyone!
Renata