HEFFERNAN SCORES TWICE AS CANADA BEATS U.S 4-1 IN U18 WOMEN'S HOCKEY EXHIBITION





LAKE PLACID, N.Y. – Karly Heffernan had two goals and an assist as Canada defeated the United States 4-1 Thursday in the opening of a three-game under-18 women's hockey series between the archrivals.

Head coach Laura Schuler believes that the forward from Sherwood Park, Alta., is not just a great scorer, but a leader on the ice.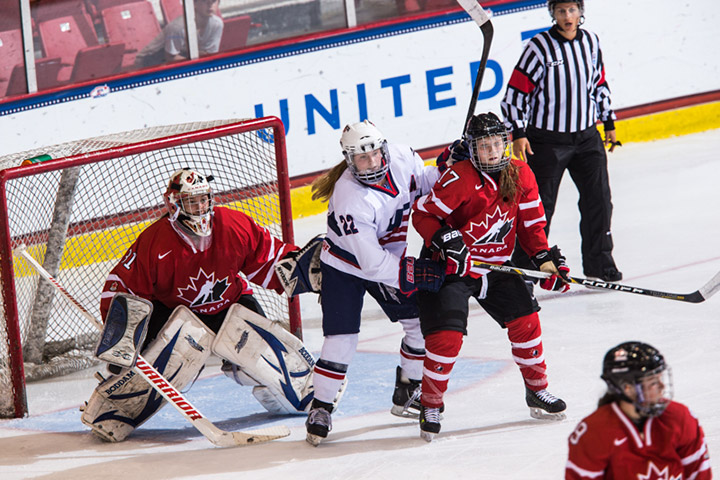 "She's definitely one of our leaders, so I was really happy with her performance," said Schuler. "Just a smart player, doing the little things she needed to do in order for us to be successful.

"Really just as a leader, she can control her line. Talking out there and dictating where people needed to go."

Vancouver's Hannah Miller had a goal and an assist and Victoria Bach of Milton, Ont., also scored for Canada while team captain Lauren Wildfang of Waterdown, Ont., added two assists.

Taylar Cianfarano replied for the U.S.

Shea Tilley of Shallow Lake, Ont., made 25 stops in the Canadian goal.

"We're really happy with (Tilley's) performance," said Schuler. "She was really poised and controlled. Really, really calm in the net. She made some really good saves for us, came up with some good saves.

"The game could've been closer but she made sure that didn't happen."

The three-game set is part of Canada's preparation for the 2014 IIHF Ice Hockey U18 Women's World Championship next April.

"We may shift some players around just to see who's capable of filling what roles," said Schuler. "This series is about us, as a staff, trying to see who's capable of doing what roles. If they can do it well then we're going to continue to work with them. If a player isn't able to, then we're going to have to continue to look to see who can fill in those roles."

The teams play again Friday before finishing the series Sunday.
Game Information/Renseignements sur le match
Game #/No. de match
1

Round/Ronde
-
Arena/Aréna
Herb Brooks Arena, Olympic Center
Location/Lieu
Lake Placid, N.Y.
Date
Thursday, August 22, 2013
Time/Heure
4 p.m. ET

| Box Score/Compte | 1 | 2 | 3 | Total |
| --- | --- | --- | --- | --- |
| CAN | 1 | 1 | 2 | 4 |
| USA | 1 | 0 | 0 | 1 |
Goals & Penalties/Buts et pénalités
First Period/Première période

Goals/Buts :
19:25 CAN Karly Heffernan (Rebecca Leslie, Lauren Wildfang)
19:42 USA Taylar Cianfarano (Victoria Sullivan)

Penalties/Pénaltés :
01:40 CAN Sarah Potomak (Hooking/Accrocher)
08:48 USA Caitrin Lonergan (Tripping/Faire trébucher)
11:09 USA Maddie Rolfes (Body-checking/Mise en échec corporelle)
16:52 CAN Jessica Healey (Delay of Game/Retarder le match)
Second Period/Deuxième période

Goals/Buts :
05:18 CAN Victoria Bach (Ainsley MacMillan)

Penalties/Pénaltés :
01:35 CAN Alexandra Labelle (Body-checking/Mise en échec corporelle)
10:08 CAN Victoria Bach (Hooking/Accrocher)
13:02 USA Maddie Rolfes (Tripping/Faire trébucher)
14:29 USA Megan Keller (Delay of Game/Retarder le match)
Third Period/Troisième période

Goals/Buts :
05:49 CAN Hannah Miller (Lauren Wildfang, Karly Heffernan) PP/AN
17:15 CAN Karly Heffernan (Hannah Miller) EN/FD

Penalties/Pénaltés :
05:25 USA Megan Keller (Body-checking/Mise en échec corporelle)
14:14 CAN Lauren Wildfang (Holding/Retenir)
19:29 CAN Ève-Audrey Picard (Body-checking/Mise en échec corporelle)
19:37 USA Rebecca Gilmore (Interference/Obstruction)
Goaltenders/Gardiennes de but
CAN
Shea Tiley
USA
Erin O'Neil
| Shots on Goal/Tirs au but | 1 | 2 | 3 | Total |
| --- | --- | --- | --- | --- |
| CAN | 10 | 6 | 4 | 20 |
| USA | 6 | 12 | 8 | 26 |