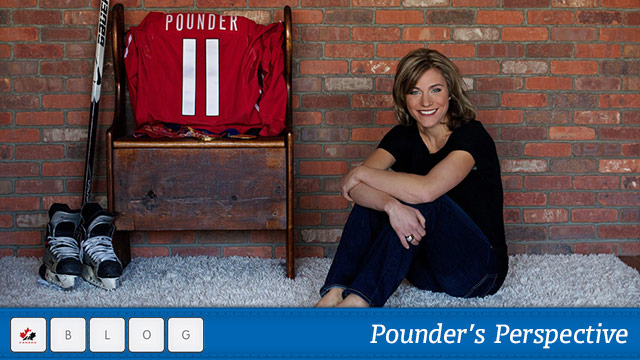 The Canadian athletes have been welcomed into the Olympic Village with a flag-raising ceremony that has gathered and honoured our country. There has been constant picture taking, trying on new Olympic clothing (which, by the way, is VERY exciting), posing with the Olympic rings, and 'capturing' of details the Olympics represent.
I remember the walls being adorned with school children's pictures, well-wishes and dreams. I could see myself in some of those pictures; a young, eight-year-old girl with the dream of one day being where I now stood. I wasn't in the dream anymore … I was living it!
The Olympic Village is a community of countries. It enables the athletes to get away from the pressure and expectations for a moment. Flags hang with pride out of windows and there is a 'buzz' in the air. Of course, we can't forget the FREE amenities the village has to offer. It is amazing how McDonald's becomes the central meeting place for athletes from various countries.
Who can forget the arcade? By the time I got to the gold medal game in 2002 I had a severe blister on my right thumb; I had become the Pac Man world champion, a record I take VERY seriously. I hear ping pong is the game of choice for our girls! Watch out guys… have you seen their hand-eye coordination and intensity? It won't surprise me if there are some minor injuries incurred at the 'ping pong' Olympics!
Throughout the year the staff changed the rooming list so we would get outside our comfort zone. At the Olympics, 'roomies' become those that provide balance and understand what makes us tick. In 2002 and 2006, I was fortunate to room with my very own Bobbsey Twins, Becky Kellar and Colleen Sostorics. I remember crying with laughter when we looked across at an attractive British lad who had forgotten to shut his drapes … and we thought he couldn't see us; shame on us! Some can handle snoring, sleep talking and yes, sleep walking. I won't mention any names, but there have been intense moments over the years.
When I stepped into Salt Lake City and Turin, I remember getting lost in the moment and caught up in 'the dream.' It took a few days to take it all in and understand the magnitude of where I was and what the REAL task was ... winning a gold medal for Canada! In 2002, Coach Sauvageau gave us a dose of perspective when she said, "It's time to put the cameras and video cameras away. You are not a tourist."
Hockey spans the duration of the Olympics. The girls will need to stay disciplined, and be accountable to their rest. That means making sacrifices. I often get asked what it was like to watch my fellow Olympians compete.
The answer is a simple one: I didn't. I watched them on television, just like you.