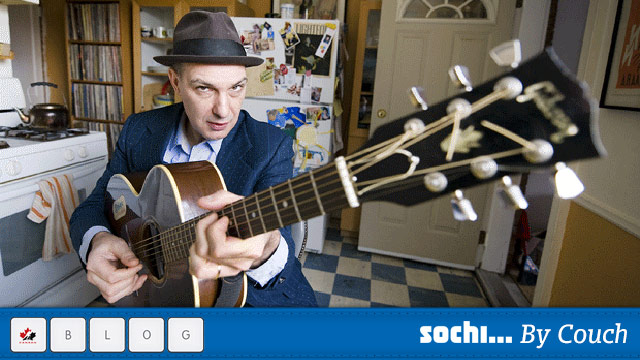 In the end, it was kind of weird – no powder keg and very little angst anywhere – and, in the end, it was the American fans wondering why the U.S. couldn't score against Canada, not the other way around. So: 1-0 for the red and white, and a Canadian date with its Sochi 2014 doppelgängers, the Swedes.
The two teams are similar mostly in the way their defences have been stifling, mobile and commanding. Against the U.S., the armchair fan was astonished after seeing someone like the ostensibly stay-at-home and reliable defenceman Marc-Édouard "Pickles" Vlasic charge into the U.S. zone, only to wildly follow the puck behind the net. But this is how it has been for Canada and its gold medal opposites: an attack manufactured from the back end, and heroes made, so far, of Drew Doughty and Eric Karlsson.
Fittingly, the Games will end with hockey, the marquee team sport of the Olympics and one that, thanks to Sidney Crosby, has produced the most lasting image of our century: his mouthguard yanked away, gloves flung high, and arms opened impossibly wide to hug as many teammates as possible in the bright corner of Canada Hockey Place.
To date, men's hockey hasn't come close to matching what the women gave us – a generationally-defining sporting comeback – and it may not. After observing Canada, you get the sense that dramatic intrigue isn't really its bag. Instead, efficiency, officiousness, and calm execution anchor its play. To produce drama one has to, usually, do something that no one expects, and, in Sochi, the men's hockey team play as if it knows what's about to happen before it happens. It's as fine as the inner workings of a pocket watch, but you can only stare at it for so long before you realize that none of the strings are going to pop. It operates flawlessly. One wonders what might happen should Sweden surge ahead on Sunday, and whether it can tick faster while maintaining the same machine-like strength.
Last spring at the world championship, I saw Sweden – with the Sedins and others – face Canada, who boasted Hamhuis, Duchene, P.K. Subban, Claude Giroux and Steven Stamkos: a very good team. Canada never came close to winning. Instead, the Swedes did what they do best: they owned the neutral zone, captained the corners on the cycle, and scored twice on the power play. Both goals were seeing-eye shots that found their way in from the point, but no matter. A 'W' was a 'W' and, later, they moved go on to win the championship in relatively easy fashion.
To say that Canada was frustrated and bewildered is to undersell its reaction to the swirling, moderate play of the Tre Kronor. It almost looked, at times, as Sweden's casual flow was an affront to Canada, so used to charging into the play and shaking up the opponent by the mere intensity of its will or focus. Instead, the Swedes smiled and passed; smiled and passed. And then, like that, Canada was heading home.
What's different – and, in a way, what's brilliant – about Team Canada 2014 is its not at all interested in getting uptight playing where it's playing: on the kind of enormous sheet of ice where most Europeans were raised. Rather than chase a player, tongue wagging, the Canadians seem happy to let the European teams – and the Americans, too – skate right into their defencemen's arms, which happen to be timber strong and as big as Pacific salmon. Further to that, this group of forwards is "responsible," even though this is not the kind of quality upon which legends are told. But like Scotty Bowman once said, "Team speed isn't just going forward. Team speed is back checking, too," and Team Canada has lots of that.
Sunday morning will be fascinating and wild because gold medal games usually are. And while the Swedes always play well together and know the international game better than any nation, you get the sense that Canada is starting to understand how it all works, too.
The game might not end up being a time bomb, but you might as well set your watch anyway.