MAUERHOFER MAKES 42 SAVES, SWISS BLANKS CZECHS FOR SECOND IN GROUP B
YARMOUTH, N.S. – Maxim Mauerhofer stopped all 42 shots directed his way for a shutout in his tournament debut, leading Switzerland to a 2-0 win over the Czech Republic on Wednesday night at the 2013 World Junior A Challenge.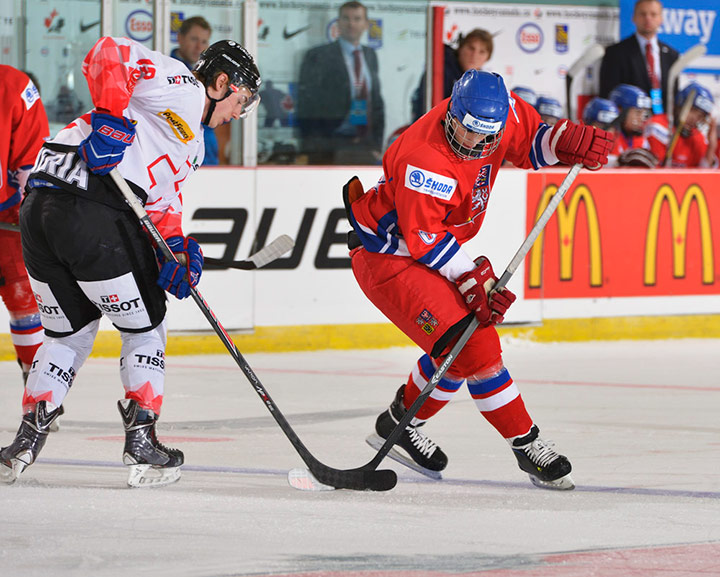 The win clinches second place in Group B for the Swiss, who will face the third-place team from Group A in Thursday's quarter-finals (time TBD).
Félix Girard and Luca Hischier had the goals for Switzerland; both players added assists, while Thomas Studer was also in on both goals, chipping in with two helpers.
After a scoreless first period, during which the Czech Republic held a 14-7 advantage in shots on goal, the Swiss opened the scoring 4:30 into the middle frame when Girard batted in the rebound of a Hischier shot for a 1-0 lead.
Hischier doubled the Swiss advantage on a power play at the 12-minute mark of the second period, stepping in off the right wing and wiring a wrist shot over the glove of Czech netminder Karel Vejmelka.
That would be all the offence Switzerland would need thanks to Mauerhofer, who made 14 saves in the first period, 12 in the second and 16 more in the third to record the second shutout by a Swiss goaltender in World Junior A Challenge history.
The Czechs outshot Switzerland 42-23.
Both teams will wait for the result of Wednesday night's preliminary round finale between Canada East and the U.S. to find out who their quarter-final opponent will be.
- - -
› Summary