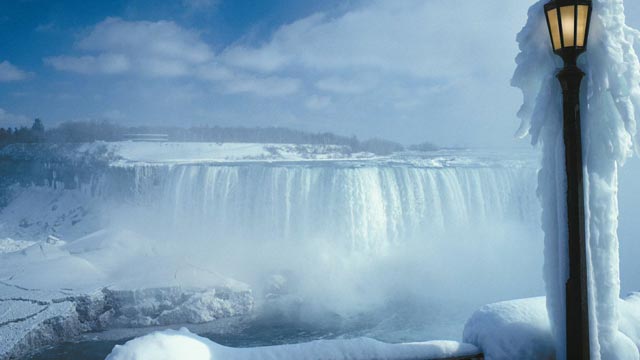 When visiting St. Catharines for the 2016 IIHF Ice Hockey U18 Women's World Championship, be sure to experience all that the city, and the entire Niagara region, has to offer. Come for the hockey, but stay for so much more. Don't miss the opportunity to take advantage of this wondrous setting throughout the winter months, witnessing everything that makes Niagara a world-renowned destination.
It was listed as one of the top 100 internationally-known events in North America; watch a city transform into a sparkling winter wonderland during the Winter Festival of Lights, a Niagara Falls-based event that takes place annually from November to mid-January. Be sure to take the time to venture along the five-kilometre route to witness the more than three million lights that convert the region, including Niagara Falls itself, into an enchanting winter escape.
In addition to this internationally-acclaimed event, the Niagara region also hosts the iconic Niagara Ice Wine Festival in mid-January. Considered a delicacy in the region, visitors simply must experience the incredible product that results from the frozen grapes harvested during the winter. Niagara is well-known for its exceptional wine, and has a plethora of fine wineries throughout the region that offer wine tastings and tours throughout the year.
Looking for some between-game entertainment? A trip to Clifton Hill is a must. A stay in the Niagara region is not complete without a visit to this premiere tourist promenade. Just steps away from Niagara Falls and home to an array of activities for the entire family, visitors will be able to have just as much fun out of the arena as in it. Purchasing a Clifton Hill Fun Pass will provide discounted entrance to a number of incredible attractions, which truly feature something for everyone.
First-time visitors cannot miss their chance to Journey Behind the Falls. This incredible experience is sure to rival all of the excitement of stepping onto the Meridian Centre ice; take a journey deep below and behind the heart of Niagara, stand in the mist of the mighty Horseshoe Falls, and experience the water crashing down. Even if visitors have experienced this in the summer, the winter setting provides completely different sights and sounds that should not be missed.
Finally, after an exhilarating day at the rink, visit the Greg Frewin Theatre. Here, witness a Las Vegas-style magic show featuring International Grand Champion of Magic, Greg Frewin. The show includes appearances by rare and majestic animals, as well as the incredible magic of Greg Frewin himself.
For more information on these and several other attractions within the Niagara region, visit St. Catharines Tourism, Niagara Falls Tourism or the Tourism Partnership of Niagara.